OK, purse junkies...what? You thought we only fabulized shoes? We do tons of purses and purse accessories....wallets, eye glass holders, coin purses, even hand painted luggage tags! You like zippers? We'll give you zippers! Pockets?Done!
Girls, the day of the "it" bag is over! Wanna be noticed ?? UNIQUE IS THE NEW BLACK...hand painted, one-of-a-kind, leather hand bags!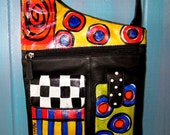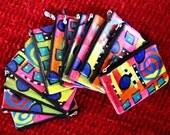 $18.00 USD
Below are examples of some of the sold hand bags. many of these can be recreated...

contact me!

You may have noticed the same bags painted in different colorways. That's what we do!

I get to make my living doing what I love...how great is that!